In this exclusive featurette, Master David Kijek reveals his journey from a young boy playing with a wooden workshop tool to a distinguished Hwa Rang Do Master, including his influences and the challenges he's faced along the way. The interview can be found here, while the full magazine issue is available online through issuu.com

---
Hwa Rang Do's New Competition Format ft. Grandmaster Taejoon Lee
Black Belt Magazine, September 2014
In 2014, Hwa Rang Do unveiled a new continuous fighting competitive format: yongtoogi. Grand Master Taejoon Lee was featured in Black Belt Magazine's September issue of that year, showcasing Hwa Rang Do techniques and discussing the format.

---
Defend, Takedown, Submit ft. Grandmaster Taejoon Lee
Black Belt Magazine, February 2006
Grand Master Taejoon Lee's Defend, Takedowwn, Submit, published in 2006, describes Hwa Rang Do's modern approach to self-defense: defend the attack, takedown the attacker, and apply a submission to neutralize the threat. Grand Master Lee elaborates on this philosophy, with exemplary techniques, in Black Belt's February 2006 issue

---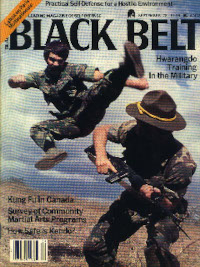 Hwa Rang Do Training In The Military ft. Michael Echanis
Black Belt Magazine, 1978
Legendary soldier Michael Echanis made waves in the 1970s when he began teaching Hwa Rang Do to US armed forces members. Echanis opens up to Black Belt in this interview, published shortly before his death in September 1978.